The Regent Experience- Seven Seas Society
Regent Seven Seas Society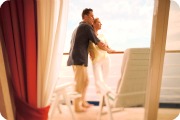 Upon completing your first Regent Seven Seas voyage you are automatically welcomed into the Seven Seas Society, Regent's special family of past passengers. Membership confers a host of exclusive rewards and benefits designed to add even more value to your future voyages.
New benefits include priority online shore excursion and dining reservations, plus instant recognition at the Silver level for first-time guests sailing 21 nights or more. For all other Society members, if the number of nights you are sailing during your cruise brings you to the next tier, enjoy instant recognition at the upgraded tier from the moment you board.
As a Seven Seas Society member, receive a $100 Future Cruise Credit per Guest ($200 maximum per booking) when a new guest that you refer sails with you on their first voyage with Regent Seven Seas Cruises. Click here for more details.