General Cruise Questions
General Cruise Questions
How do I book a cruise?
Planning a cruise vacation can be complicated - more so than booking an airline ticket, hotel, or rental car. A cruise vacation can truly be vacation of a lifetime. It can be a significant investment of both time and money. Therefore, we highly recommend you enlist the services of a professional Cruise Specialist to help you choose the right cruise for you.
Thereare literally thousands of different cruise options to choose from and the best vacation for you depends on how you answer these questions:
When do you want to go? For how long?
What do you want to see? Which is more important? Beaches? Shopping? High Adventure? Relaxation? History? Folklore? High Adventure? Sports?
What type of accommodations?
How are you getting to the ship? Do you need transfers? Using frequent flier miles?
How many cabins do you need? Do you need cabins near one another? Do you want to sit together at dinner? Are you celebrating a big anniversary? Does everyone need the same type of cabin? Do you qualify for a group rate?
Do you have special needs? Wheelchair? Special diet?
What kind of rate do you qualify for? Are you AARP? A Platinum Card Holder? Retired from a Fortune 500 company or part of Credit Union? Work for an airline? Military? Teacher? Resident of a certain city? AAA or Union Member? Are you a past passenger of the cruise line? What's your past passenger number? Do you have any coupons or upgrade certificates?
Your best bet for booking your cruise Vacation is 1) find a company like RegentCruises.com who specializes in discount cruise vacations 2) spend a lot of time on the website and do your research and 3) book online or get on the phone and speak to a live RegentCruises.com Cruise Specialist to help you find the best cruise vacation for you.
As an FYI, many online websites like Travelocity and Expedia may let you book a cruise online, but you could be paying more than if you just picked up the phone and called a Cruise Specialist who will take the time manually research all the rate programs for which you qualify.
What's an air/sea cruise?
A fly/cruise or air/sea cruise vacation package includes either free or much reduced airfare along with your cruise ticket. These money-saving options are available from most major North American cities and include transfers between the airport and ship as well as baggage handling.
Can I book on short notice?
Even the most popular cruises sometimes have space available because of late cancellations. But, to get exactly the ship, cabin and sailing date you want, you should plan and book early. Most cruise lines also offer early booking discounts for customers who plan ahead. Then, just sit back and anticipate all the fun you're going to have!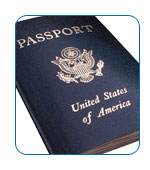 Do I need a passport?
Passports are required for all U.S. citizens to take a cruise aboard a foreign-flagged ship after December 31, 2006. If your ship departs prior to December 31, 2006 and returns after that date, you will still be required to travel with a passport.

Some countries on your itinerary may also require a visa for entry. U.S. citizens can contact Zierer Visa Service at 800-421-6706 or at www.zvs.com. Non- U.S. citizens must contact the consulate or embassy representing the country that issued your passport.

U.S. Citizens traveling aboard U.S.-flagged vessels in Hawaii and Alaska can board the ship without a passport, however, valid proof if identity is still required. U.S. flagged vessels include, but are not limited to, Norwegian Cruise Line's Pride of Aloha, Pride of America and Pride of Hawaii and most CruiseWest ships. Flight itineraries to and from the ship that cross international borders or connect in foreign countries may still require a passport. Check with the airline when making your reservations.
Can I extend my cruise vacation?
We can arrange pre- or post-cruise land packages at the same time you book your cruise. And, in many cases, your airline ticket will include helpful options, such as free stopovers, that enable you to make your own special arrangements.
Is motion discomfort a problem?
Today's modern cruise ships are quite large and contain hi-tech stabilizing devices and advance weather notification processes. In the unlikely event you experience motion discomfort, there are a number of over-the-counter solutions to ease your concerns. These include Bonine, Mecklizine, Dramamine, Transderm Scope Patches, and Seabands. Please consult with your physician or pharmacists before taking any medication.
Can we stay in touch with the outside?
Quite easily. Most ships have a daily newsletter with news, headlines, selected stock quotes and sports scores. Staterooms on all of today's modern cruise ships are equipped with satellite televisions and in some cases in-cabin internet connections. While most ships now have telephones in passenger cabins, you can also call someone on shore through the ship's radio operator while at sea. And, you can make phone calls from most ports. In addition, many ships have fax capabilities and newer ships offer Internet access and e-mail capabilities to passengers.
Can I use my hair dryer or shaver?
Most ships have 110-volt outlets in the staterooms. But do check with your us to be sure. Many ships even feature hair dryers in your cabin.
Can we celebrate a "special" day?
Absolutely! Most cruise lines will even treat you to a complimentary cake and a chorus of Happy Whatever to honor the occasion. Your birthday or anniversary can be more festive with champagne, flowers, canapes, wine or cheese. You can even arrange for a special private party. All you have to do is advise us in advance.