Life Onboard Regent - Bars and Lounges
Life Onboard Regent - Bars and Lounges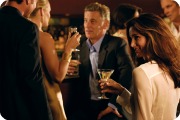 Don't forget about the dancing. Make your way back to the stunning Horizon Lounge where a dance floor in the shape of a three-quarter moon overlooks the sea.
Settle into a comfortable English club chair in the Connoisseur Club, and light up a hand-rolled cigar from the climate-controlled humidor.
Or watch for falling stars in the romantic Observation Lounge accompanied by the grand piano or, perhaps, a cabaret artist.