Life Onboard Regent - Lugagge
Life Onboard Regent Seven Seas Cruises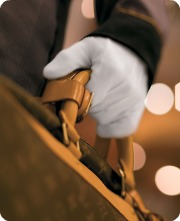 Regent Cruises Luggage
Regent Seven Seas Cruises and their partnership with Luggage Free can help you make the necessary arrangements to ship any additional baggage or equipment you may want, without the bother of taking it yourself.
Luggage Free is a custom luggage-shipping and delivery service providing you with door-to-door shipping, avoiding the hassle of carrying, checking and claiming luggage even through customs. You can even make reservations online.
After your order is placed, a Luggage Free representative will arrive at your home within 24 hours to wrap each bag in protective covering and transfer them to the nearest airport. Your bags are then placed in Luggage Frees forward freight system and delivered to your destination. After landing, Luggage Free picks them up at the airport, clearing international shipments through customs. Luggage Free then delivers your bags to their ultimate destination address. The process is reversed for the return trip.
Make arrangements to have your luggage conveniently transported from your home to the ship, and back home from any international port at the end of your Regent Seven Seas cruise by contacting Luggage Free directly: 800-361-6871; sales@luggagefree.com and www.luggagefree.com.