Life Onboard Regent - Dress Code
Life Onboard Regent - Dress Code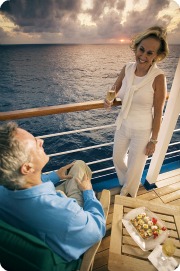 Country Club casual (resort-style attire) is appropriate for daytime on board or ashore. Shorts are not appropriate after 6 p.m. in any of the public rooms or lounges. Guests are asked not to wear bathing suits in the restaurants and lounges at any time. Evening attire can be Country Club casual, informal (sport coat and tie recommended), or formal (black tie optional). Evening dress codes begin at 6 p.m. Depending on your itinerary, the dress code varies by ship and location. In your documents it states how many formal nights there are, and once on board, the suggested evening dress code is listed on the front page of your ship's daily newsletter.
The evening dress code is Elegant Casual, and Formal Optional. The number of Formal Optional nights per cruise is dependent upon the length of the cruise, as follows:
Cruises of fourteen nights or less will be Elegant Casual for the duration
Cruises of fifteen nights or more will have two Formal Optional nights
Elegant Casual: Skirt, or slacks (no jeans) with a blouse or sweater, pant suit or dress for ladies; slacks (no jeans) and collared shirt for gentlemen. Sport jackets are optional.
Formal Optional: While guests are welcome to dress each evening as per the Elegant Casual dress code, during Formal Optional evenings, guests may opt for a more formal choice of clothing including gowns and cocktail dresses for ladies; tuxedos, dinner jackets or dark suit with tie for gentlemen.