Now That You Are Booked
Now That You Are Booked
Thank you for booking your cruise with RegentCruises.com. Here are some Frequently Asked Questions that may help you plan for your upcoming cruise vacation. Still can't find an answer? Please call us at 1-800-784-0022. We appreciate your business.
Documents, Immigration, Travel Protection
Transportation
Luggage and Packing
Special Needs
Onboard the Ship
Do I need to bring a Passport?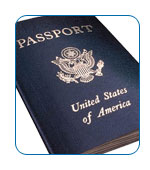 On June 1, 2009, the U.S. government will implement the full requirements of the land and sea phase of WHTI. The proposed rules require most U.S. citizens entering the United States at sea or land ports of entry to have a passport, passport card, or other travel document approved by the Department of Homeland Security.

CHILDREN: U.S. citizen children under the age of 16 will be able to present the original or copy of their birth certificate, or other proof of U.S. citizenship such as a naturalization certificate or citizenship card.

Groups of U.S. citizen children ages 16 through 18, when traveling with a school or religious group, social organization, or sports team, will be able to enter under adult supervision with originals or copies of their birth certificates or other proof of citizenship. See the Department of Homeland Security's GetYouHome.gov for more information on the changing travel requirements.
How do I obtain a copy of my Birth Certificate?
For U.S. citizens needing a copy of a birth certificate, contact the city hall located in your town of birth. If you do bring a birth certificate and government-issued photo ID rather than a passport, the birth certificate must have a raised seal. You may also be able to order a copy of your birth certificate at www.vitalrec.com. For a fee, they can expedite a birth certificate for you.
My cabin was booked as a Guarantee. When will I know my cabin number?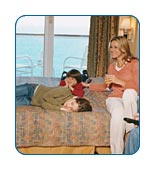 A "Guaranteed Cabin" means that you will receive your cabin number and deck assignment when you check in for your cruise. You will receive a cabin in the category that you booked and no lower than that category. If your booked category is not available when you check in, then you will receive a complimentary upgrade to a higher category. This process is very similar to booking a hotel room. With a hotel, you book a room type and you're assigned your room number when you check in at the cruise. The same principle applies here. This is a very common practice among all major cruise lines.
Once you arrive at the cruise ship passenger terminal, the baggage porters will have the passenger manifest and your stateroom number. They will then help you complete your baggage tags and deliver your luggage to your room later.
Can I add or change a passenger in my cabin?
If your stateroom is equipped to accommodate additional passengers, then you may add another person to your cabin unless the ship has reached it's maximum sailing capacity. The additional passenger is subject to the current costs for the extra guests in your cabin. If you are booked on a specific price program, adding a passenger may also affect your rate. If you need to add a passenger, please contact your RegentCruises.com Cruise Expert for details regarding your booking.
Some cruise lines will allow name changes after the reservation is paid in full. All name changes are subject to change fees imposed by the cruise line. No name changes are allowed within 48 hours of departure.
When will I receive my Cruise & Travel Documents?
If you booked your cruise outside of 30 days prior to sailing, you should expect to receive your cruise documents 7 - 10 days before you leave. If you booked your cruise at the last minute or made your final payment within 30 days of travel, you may receive "e-Documents" or pick them up at the pier on the day of check in.
What are "e-Documents?"
E-Documents are electronic cruise documents issued by the cruise line when a cruise is booked within 30 days of departure. E-Documents include all of the same information as paper tickets except they are delivered as a PDF file via email or link to the cruise line's website. Once you open the file, you can print it and take the tickets with you to the pier with your proof of citizenship. Not all cruise lines offer E-Documents.
What does "Pier Pickup" mean?
"Pier Pickup" means that your cruise documents will be waiting for you at the cruise terminal when you check in on your departure day. Most cruise lines offer this service when a cruise has been booked last minute and there is not enough time to send paper tickets via regular mail. Pier Pickup is exactly like showing an I.D. to get boarding passes from an airline, check in to a hotel room, or pick up concert tickets at will call.
Once you arrive at the cruise terminal, just walk up to the next available check in clerk and present your proper proof of US Citizenship. They will then give you your boarding pass and cruise documents.
What is Travel Insurance? Do I need it?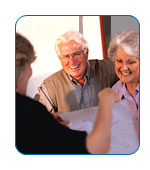 Travel Protection is vacation insurance and it's designed to protect your vacation investment in the event you must cancel due to unforeseen circumstances that may interfere with your ability to travel, or if things to go wrong while you are on your cruise.
RegentCruises.com highly recommends that you purchase our cruise cancellation insurance. Without insurance, you will be liable for all penalties if you cancel after you make final payment for your cruise.
Travel Protection covers:
Cancellations due to sickness, death, injury of you, a family member, domestic partner or traveling companion
Travel delays due to inclement weather or natural disasters
Bankruptcy of an airline, cruise line or other travel supplier, when this plan is purchased within 14 days of initial deposit
Terrorism (domestic and international)
In addition, Travel Protection covers:
All pre-existing medical conditions, when this plan is purchased with 14 days of initial deposit.
Lost, stolen, or damaged baggage and personal effects
Emergency medical expenses
Expenses incurred if your travel is delayed
Emergency transportation to an adequate medical facility, with an escort when medically necessary.
If must cancel your cruise or incur expenses or penalties for any of the reasons covered above, Travel Protection Insurance will reimburse you for covered costs.
What if I have to cancel?
If you must cancel your cruise please contact our office immediately. You will need to provide your name, invoice number, ship and sailing date. We will then contact the cruise line to cancel your cruise.
Each cruise line has cancellation policies and cancellation penalties apply depending on how close to sailing you cancel your cruise. When you booked your cruise, you were advised of your cruise line's cancellation policy and penalties. If you cancel your cruise outside of your final payment period, you may have little or no penalty. If you cancel the week of sailing, you may not receive a refund at all. The amount of the penalty depends upon when you cancel. It is your responsibility, as the passenger, to become familiar with the penalties assessed for canceling the cruise. An administration fee also applies to all cancelled reservations.
We highly recommend Travel Insurance to protect yourself from penalties assessed for canceling due to medical reasons for yourself or family members. Every passenger is offered Travel Insurance at the time the reservation is made. If declined, please be advised cancellation penalties will be applied to your reservation.
Should I purchase the Air/Sea package from the cruise line?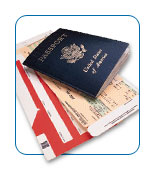 There are a number of benefits to purchasing the cruise lines' air/se packages. For one, a cruise line's air sea package is a convenient way to travel. They make your travel arrangements, as well as take care of ground transportation from the airport to the ship and back from the ship to the airport on your return. This seamless process is convenient as well as providing peace of mind that the cruise line has made your air arrangements and is taking responsibility in making sure you arrive at the ship on time.
If I book my own airfare for my cruise, what time should my flights arrive and depart?
For cruises departing the continental United States, you should plan to arrive no later than 1:00 pm on the day of departure. This should provide ample time to collect your bags and transfer to the ship, even if the port is an hour from the airport. By arriving early, you are planning ahead for unforeseen flight delays and increasing your changes of meeting the ship on time.
Return flights should not be booked any earlier than noon on the day your cruise returns. For airports that are longer distances from the cruise port, plan accordingly and ask your RegentCruises.com Cruise Expert.
If you are booking your own flights, we recommend you consider arriving a day prior to the cruise to ease any concerns of arriving to the port on time. This is especially recommended for travel during the winter months when weather delays are common.
When will I know my flight schedule?
If you booked your airfare on your own, you should have your flight schedule with your confirmation. If you booked airfare through the cruise line, you should receive your flight schedule around 3 weeks prior your cruise departure date. The cruise lines use major airline carriers, and they allow you enough travel time to safely arrive at the ship on time.
Can I specify what flights I want when I book my airfare through the cruise line?
You can choose your airline, routing, times and select dates by requesting an Air Deviation in writing. For a non-refundable fee plus any additional fare differences by the airline, an air deviation allows you to pick your airline and flight schedule. Air deviations are on a request basis only and there is no guarantee your schedule will be available. You must make your air deviation as soon as possible after booking your cruise.
How do I obtain my airline seat assignments?
Cruise lines generally do not make airline seat assignments for their guests. We will work with the cruise line to obtain your flight schedule, but it is recommended that you deal directly with the airline to secure your seat assignments. Frequent Flyer upgrades to first class are generally not allowed with the cruise line air/sea packages. If you find after contacting the airline that your assignments are "airport check in only" we recommend arriving at the airport early to get your seats.
Can I get credit for my frequent flyer miles using the cruise line airfare?
Upon having a confirmed air schedule from the cruise line, you may add your frequent flyer miles directly with your air carrier to receive mileage credit.
What time should I arrive at the airport?
Due to heightened security and screening measures, it is mandatory that you arrive no later than 90 minutes prior to departure in order to board the ship. So we suggest you arrive at the airport at least two hours prior to your ship's departure time.
How do I get from the airport to the pier?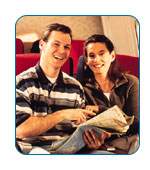 If you booked your airfare from the cruise line, a cruise line representative in the baggage claim area will direct you to the cruise line transfer bus that will take you to the pier.
If you booked your airfare own your own, you are responsible for your transportation from the airport to the pier. This may include taxi and shuttle services to the pier, which is available at all major airports, or you may purchase transfers from the cruise line.
Can I purchase Airport Transfers through the Cruise Line?
Yes, you may purchase airport transfers through the cruise line. Costs vary depending by cruise departure port. If you would like to purchase airport transfers, please contact our office and a customer service representative will help you. Please have your complete flight schedule when you call.
How much does it cost to park my car at the pier? Is it safe to leave it there?
Most Cruise Terminals offer easy and convenient parking for cruise passengers at the pier. These parking areas are security patrolled and can accommodate handicap parking and in most cases, RV's and buses as well. Daily parking rates vary by Cruise Terminal.
How much luggage can I bring onboard the ship?
The cruise lines have no limitation on how much luggage you bring. However, there are limitations that the airlines have. Check with your airline to see their restrictions. Airlines may charge a fee for extra baggage.
Do I need Luggage Tags?
You will receive luggage tags with your cruise documents. Please complete them and have them on your bags prior to arriving at the airport.
If you are booked on a "Guaranteed Cabin" you will get your cabin number from one of the porters at the pier. They have a manifest and will write your name on your tags when you arrive.
If you have e-Documents or Pier Pick-up Documents, the porters at the pier have extra baggage tags and will help you complete them when you arrive.
What type of clothing should I bring?
When packing, keep your destination in mind. If you are traveling to the Bahamas or Caribbean, cool clothing and sunscreen are a must. When your destination is Alaska, layering your clothes is essential. Alaska weather varies, and you are likely to have cool and rainy mornings, followed by warm afternoons and chilly evenings. Packing in layers prepares you for the changes in climate. You can check the weather for your destination on www.weather.com.
Many cruise lines have formal nights on the cruise. The number of formal nights depends on the length of your cruise. Shorter cruises, 3-5 nights have one formal night. Longer cruises, 7-10 nights have two or more. Gentleman should bring a dark suit or tuxedo, and women should pack a cocktail dress or formal gown. If you prefer not to dress for formal nights, casual dining alternatives are available on the ship.
In general, resort casual dictates the dress for the dining room onboard the ship. Jeans, shorts and tank tops are not allowed in the dining room, but are allowed in the casual dining alternatives.
Do I need to bring a tuxedo?
A tuxedo is not necessary unless you enjoy wearing one. Regent Seven Seas has loyal client base of passengers who enjoy the tradition of dressing up for formal night. At the minimum you would want to bring a dark suit for two evenings of a 7 night cruise and you would not be out of place in a tuxedo.
Do I need to pack a hairdryer or iron? Do I need an adapter?
Most modern cruise lines have hairdryers in your cabin. Electric razors can be brought with you, as staterooms are equipped with 110 volts AC. Many ships do not allow you to bring irons onboard. However, laundry facilities are available on cruise ships with iron and ironing boards as well as dry cleaning and laundry services.
Are there porters to help me with my luggage at the airport and the pier?
Porters are available at most airports and cruise terminals. These porters make sure your bags arrive in your cabin promptly, so tipping them is well worth your while. A customary gratuity of $1 per bag is expected and appreciated.
When will my luggage be delivered to my cabin?
Your baggage will be delivered to your cabin about two hours after you board the ship. It is highly recommended that each person bring a carry-on bag with a change of clothes, medication, sunscreen, bathing suit, camera etc to hold you over until your bags arrive. Your vacation begins when you step aboard. You shouldn't have to wait for your bags to arrive to start having fun. Come prepared with a carry-on bag.
What time can I board the ship?
General boarding begins approximately four hours prior to departure. Passengers should be on board no later than an hour prior to sailing.
Is there a safe in my cabin?
All modern cruise ships have a safe in the cabin. They are typically electronically opened and closed by either using a password you choose or your room key or plastic card with a magnetic strip. Older ships may not have safes in the cabins, but you can arrange to leave valuables with the purser's desk.
How much cash should I bring?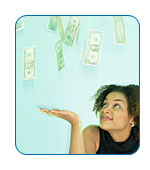 How much cash you bring depends upon your personal spending habits, but you should plan to have enough to cover an incidentals while you are on your way to the cruise ship, in port, and on the way home. Incidental expenses can include meals and snacks at the airport, gratuities for skycaps, cruise ship porters, parking at the airport or the pier, and taxis. These same charges could apply for every day that you are in a cruise port of call. While in port, most shops accept traveler's checks and major credit cards.
When you are onboard the ship, you will only need cash in the casino. All onboard charges including alcohol, spas, sodas, gratuities will go on your credit card. Some ships and most ports of call have Automatic Teller Machines (ATM) for your convenience.
As a rule of thumb, two people may want to budget a minimum of $100 in cash or traveler's checks between them for every day that you are not on the cruise ship to just to cover possible incidental charges. This would be on top of anything you plan to spend in the casino, on souvenirs, etc.
Can we celebrate a birthday or special occasion?
Absolutely! Most cruise lines will even treat you to a complimentary cake and a chorus of Happy Whatever to honor the occasion. Your birthday or anniversary can be more festive with champagne, flowers, canapes, wine or cheese. You can even arrange for a special private party. All you have to do is advise us in advance.
If I have a medical or dietary condition, how do I notify the cruise line?
Please inform your RegentCruises.com Cruise Expert when you make your reservation if you have a medical or dietary condition. Most cruise lines offer handicap accessible cabins, and try to find one for you. The cruise line will require you to fill out a medical advisory form, so that they will be made aware of your situation and can assist you. For dietary conditions, low-sodium meals, kosher meals and special diet meals will be available for you.
Are there medical services and facilities available on the ship?
Most modern cruise ships have well-equipped medical facilities and staff to handle every emergency. These facilities are set up to handle small issues (like seasickness) as well as emergencies and have 24-hour nurses and doctors available. Travel Insurance is recommended to cover the expense of any unforeseen trip to the medical center.
Do they have wheelchairs onboard?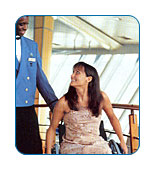 Wheelchairs are only available to help passengers on and off the cruise ship during embarkation and disembarkation. Generally, they are not available for use throughout your cruise. Some cruise lines like Holland America work with companies you can contact directly to arrange to rent a wheelchair for a week. If you or a family member requires a wheelchair during your entire cruise, you should bring your own. Some cruise lines have
What time can I board the ship?
General boarding begins approximately four hours prior to departure. Passengers should be on board not later than an hour prior to sailing.
Can I bring visitors onboard the ship?
We're sorry. Due to heightened security, visitors are not allowed on board cruise ships unless they are members of a wedding party.
Are my meals included onboard the ship?
Most meals are included in the price of your cruise package. These meals include eating in the main dining room as well as buffets. Some cruise lines offer specialty restaurants that do charge a per person fee. These restaurants may require advanced reservations that you can make when you board the ship. Cruise ships offer free room service with a limited menu 24-hours a day.
Are there drinks included? How much do they cost?
Coffee, tea, water, milk and juices are included as part of your cruise fare. Soft drinks, bottled water, beer, wine and alcohol are also included in your cruise fare.
What is the drinking age on a cruise ship?
You must be 21 years old to legally consume alcohol, beer or wine on a cruise ship.
How much do I need to tip the staff?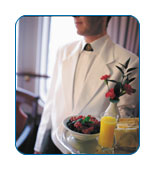 You should budget a minimum of $10.50 per guest per day total for gratuities. This would recognize your waiter, cabin steward, bus boy, headwaiter and maitre d'. The cruise lines have made it easy for you in regards to tipping the staff. Many cruise lines offer the convenience of automatically charging your credit card for your onboard account. All bar bills have a 15% service charge added in.
Realizing tipping is a personal matter; you can alter the tipping at the purser's desk according to the level of service you received.
How do I pay for my purchases onboard the ship?
All financial transactions on a cruise ship are done through and onboard account you set up when you board the ship. You will provide a credit card or a cash deposit and then all purchases will be applied to your stateroom. You can conveniently charge all of your onboard purchases (beverages, spa services, ship souvenirs, pictures and shore excursions) to your cabin. On the last night of the cruise, a statement of all of your charges will be delivered to you and charged to your credit card.
If you do not have a credit card, you can leave cash deposit upon embarkation to open your onboard account. You may need to replenish this cash throughout the week if the purser's desk notifies you. Any unused cash will be refunded to you at the end of the cruise. Cash is accepted in the casino.
How do I find out about the ship's daily activities?
Every evening during your cruise, a daily bulletin will be delivered to your cabin with a complete agenda of all activities, events, movie schedules and special programs. This agenda will list the offered activities, hours of restaurants and shops as well as casino hours. Children's activities are listed on a separate sheet, so check with the purser's desk or your cabin steward for a copy.
What are Shore Excursions? Can I purchase them in advance?
Shore excursions are optional, guided tours in a cruise ship's port of call. They are offered in almost all cruise ports and cities and are a great way to enhance your cruise experience by allowing you seeing more of the places you visit. Shore excursions highlight the best local attractions and sightseeing opportunities; the best places to shop; and, give the cruise passenger a chance to experience the local culture.
You can pre-book your shore excursions directly with the cruise line or online with RegentCruises.com. RegentCruises.com offers many of the same shore excursions offered by the cruise lines but at reduced prices.
How can I be contacted while I am onboard the ship? Can I check my e-mail?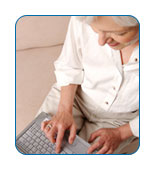 All modern cruise ships have satellite telephones in the staterooms. You can dial directly from room to room and internationally from these phones. Instructions and prices are listed in your room. Making a call can cost anywhere from $6-20 a minute, depending on the service used.
Your family can also contact you directly onboard by calling your stateroom. Your telephone will likely have voice mail so they can leave you a message. They can also try you on your cell phone. Some Caribbean ports and private islands will continue to pick up a signal for an incoming call.
Most ships also have Internet Cafes so you can access your e-mail from the ship. The cost of the Internet service ranges from 50-75 cents per minute. Some cruise lines offer unlimited Internet packages for your cruise duration at one special price. Check with the Internet cafe when you board for these special rates.
Will my cell phone work on the ship?
While you are docked in a US Port, your cell phone should work. Once you head out to sea, you will most likely lose your cell phone signal (unless you have a special satellite phone). Your ability to make and receive calls while in the Alaska, the Bahamas, Caribbean and Bermuda depends on your cell phone carrier and their coverage. You should check with your cell phone carrier prior to embarkation to verify access in your ports of call. If you need to make or receive calls from international destinations, you should speak with your carrier regarding programs for your specific phone.
What time will I be off the ship on the day of disembarkation?
Cruise ships generally arrive in their final port of disembarkation by 7:00 am on the last day of the cruise. Upon arrival, Customs Officials will board and inspect the vessel, then process immigration information for U.S. and foreign passengers. Once this is complete, the ship will be cleared for passengers to disembark. If all goes smoothly, disembarkation can be as early as 9:30 am. However, there can be delays.
If you are making your own flight arrangements, please be advised to schedule your flights home no early than noon on your day of arrival. If the airport is more than one hour from the cruise ship terminal, you should book even later flights home.
Does the ship serve breakfast the last day of the cruise?
Breakfast is served earlier than usual on the last day of your cruise. Breakfast buffets and the dining rooms will be open for you to enjoy one last meal before you have to disembark. Check with your cruise information sheet in your cabin for the full details on the times and places breakfast is served.